We're pleased to announce that our @EcoSchoolsWales platinum renewal has been awarded for 2020/21. A reward for the pupils continued hard work in this area of our curriculum.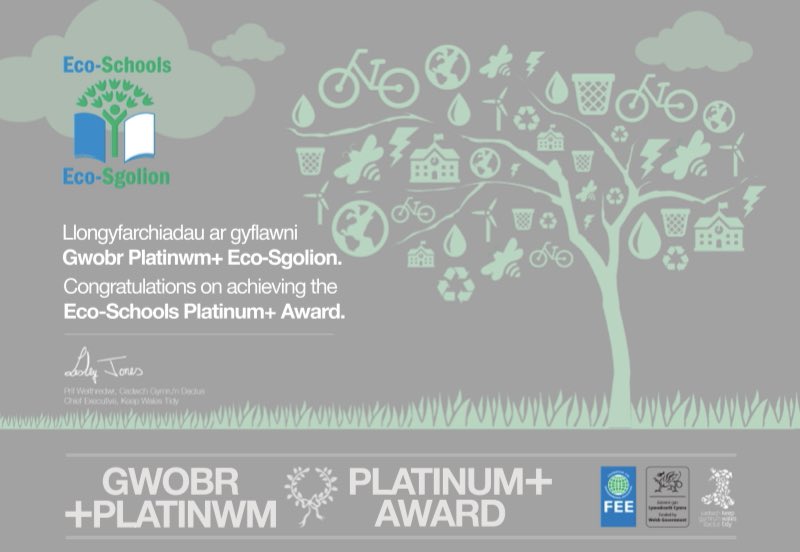 Over the next academic year, the Eco Committee have set a number of challenging targets for us to achieve in order to retain our platinum Eco Schools status. By meeting these targets, we are being kind to the environment and creating an ethos of lifelong sustainability for our school and surrounding area. Below is the action plan for the current academic year. As you can see, we have already achieved a number of our targets!
St. Mary's Honey Bees.
Our bees need some more space for honey. We had some willing volunteers to make up some new frames.
Minecraft Education Edition Sustainable School Challenge
Children in Year 5/6 and Year 6 have been using Minecraft Education Edition to redesign and rebuild St. Mary's School to make it more environmentally friendly and sustainable. Here are some examples. If you would like a copy of the School World to have a go yourself, have a look in the Isolation Suite.
St. Mary's Minecraft (click)
Minecraft Eco School (click)
St Mary's Eco School (click)
And a video (click)!
My sustainable school-10 Jul 2020 (click)
My World- 8 Jul 2020 (click)
Wales Nature Week 2020!
W

o

rl

d

B

e

e

D

a

y

2

0

2

0

!
World Bee Day is celebrated on 20th May. Here are some of the Bee-autiful ways we celebrated our busy friends…
Save Water Week 2020!
Here are some lovely posters to mark Save Water Week 2020.
World Fairtrade Day 2020!
We designed cards to thank the Farmers around the world who continue to produce our food and drink at this time.
Earth Day 2020!
Pupils have created fabulous posters for Earth Day 2020. Our theme was climate change.
Swansea University Wind Turbine Project.
Please watch the videos below for further information.
Or click on the link below to watch the whole film (Password: SMRCEco2020):
10.2.20
Today, we were very fortunate to be able to share our knowledge of our Bee community with Brynmenyn Primary School. As part of their Enterprise program, Brynmenyn are looking to invest in some new equipment so they will be able to start housing bees at their school. Mr Wooding, one of  our bee keepers, was able to share our experience of starting up a bee community and also the day to day running of our bee family. Good luck Brynmenyn!!